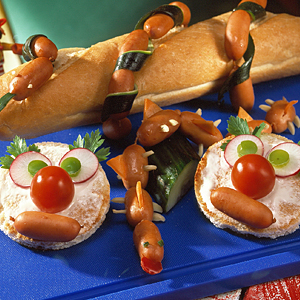 A little imagination turns little gourmets into big chefs. This simple Halloween snack shaped like a snake may inspire them.
Instructions
Lay the baguette down on a tray to serve as the tree trunk. Drain the Mini Winis well. Clean the courgettes and cut off thin strips with a potato peeler.

Wrap the Mini Wini chain around the baguette and then the courgette strips crosswise around the sausages.

Make a face for the snake with a strip of courgette for a tongue and almonds for the eyes.
Recipe courtesy of Meica