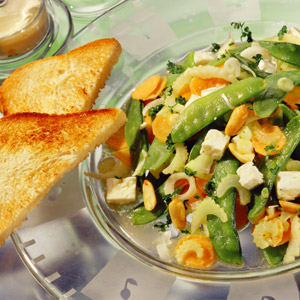 Salat der fröhlichen Gärnterin
With a somewhat unusual combination of vegetables and flavors, this gorgeous salad will wake up your taste buds.
Ingredients
1/2

lb

fresh snow peas

1/2

lb

celery stalks

2/3

lb

carrots

1

bunch

green onions

7

oz

feta-style sheep's milk cheese

200g

4

tablespoons

sunflower oil

1

teaspoon

medium-spicy mustard

2

tablespoons

apple cider vinegar

1/2

tablespoons

sparkling mineral water

sugar

salt

pepper

parsley

peanuts
Instructions
Plunge the snow peas into a pot of boiling lightly salted water, take them out again and rinse with cold water. Wash and trim all the vegetables. Finely chop the celery, slice the green onions into rings, the carrots into slices. Cut the sheep's milk cheese into small cubes and carefully combine all the ingredients.

For the dressing mix the oil, vinegar, mustard and mineral water and season to taste with sugar, salt and pepper. Drizzle the salad with the dressing and garnish with chopped parsley and peanuts.