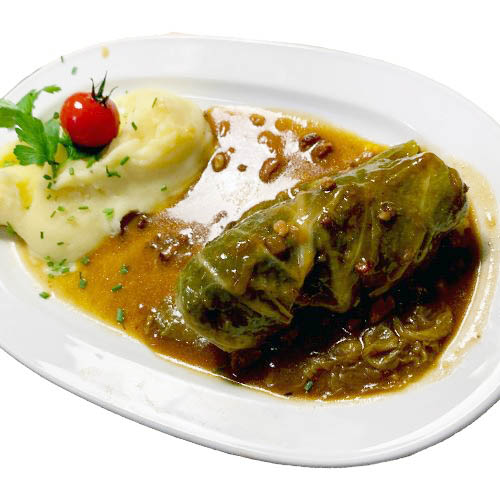 Rolled white cabbage leaves filled with a mix of ground beef, bread crumbs and egg and seasoned with caraway, marjoram, thyme and paprika.
Ingredients
Instructions
Preheat oven to 400ºF.

In a bowl of hot water, soak the dry bread rolls. Thoroughly squeeze out any excess liquid. Break into pieces.

In a large pot, bring water to a boil. Add salt and caraway. Clean and cut the center out of the white cabbage head. Place in the boiling water and blanch. Bit by bit peel the outer leaves off. Do not discard the water.

Peel and finely dice one onion. In a skillet, melt 1 tbsp butter. Add the onion and braise lightly.

Place the ground beef in a bowl. Add eggs, the braised onion, and bread roll pieces. Mix well using your hands. Add the rest of the seasonings.

Take 8 big cabbage leaves that were peeled off earlier and place them on a cutting board. Layer 2 or 3 smaller cabbage leaves on each big leaf. Add 2 tbsp of the meat mixture to each. Roll up each cabbage leaf and tie with kitchen twine.

Peel and slice the carrot. Peel and quarter the remaining onions. Cut some of the remaining cabbage, as well as the bacon, into strips.

In a large frying pan, melt the resolidified butter. Add each cabbage wrap to the pan and fry evenly on both sides. Add the bacon, onions, carrot, and cabbage to the pan. Add 2 1/8 cups of the cabbage water to the pan. Cover and braise in the oven for about 45 minutes.

Remove from oven. Mix the flour and 3 tbsp water and add to the pan. Place on the stove top and allow everything to boil once more, stirring, and then serve.
Recipe adapted from kuechengoetter.de