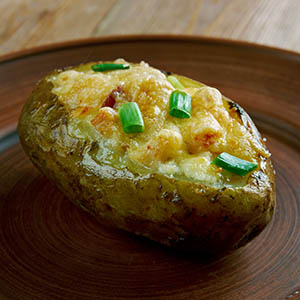 Here the classic sauerkraut and potato combo mixes it up with honey, sour cream and Gouda, with a bit of crunch from pumpernickel hazelnut crumbs, in one version of the popular street food Kumpir.
Ingredients
4

large waxy potatoes

4

Tbsp

vegetable oil

1

lb

sauerkraut

7

oz

sour cream

2

tsp

caraway seeds

2

Tbsp

honey

2

slices

pumpernickel brea

2

Tbsp

hazelnuts

5

tsp

butter

1/2

bunch

parsley

4

Tbsp

grated gouda

salt and pepper
Instructions
Preheat the oven to 400 ° F (200 ° C).

Wash the potatoes thoroughly and prick several times with a fork. Rub with sunflower oil and salt. Wrap individually in aluminum foil. Place on the oven shelf and cook in the oven for 75 minutes.

Mix the sauerkraut with sour cream, caraway seeds and honey. Season with salt and pepper and chill.

Chop the hazelnuts and finely crumble the pumpernickel. Roast them together in a pan without fat. Season with salt and melt 1 teaspoon of butter into the crumbs. Chop the parsley and mix with the breadcrumbs.

Take the potatoes out of the oven and cut lengthways, so that they fold at the bottom and the halves d not totally separate. Scrape a little of the potato flesh from each potato half, and loosen up the rest. Melt 1 teaspoon of butter on each side and season with salt.

Put 1 tablespoon of Gouda cheese into each of the loosened potatoes and mix. Fill each with 2 tablespoons of sauerkraut and top with the pumpernickel crumble.