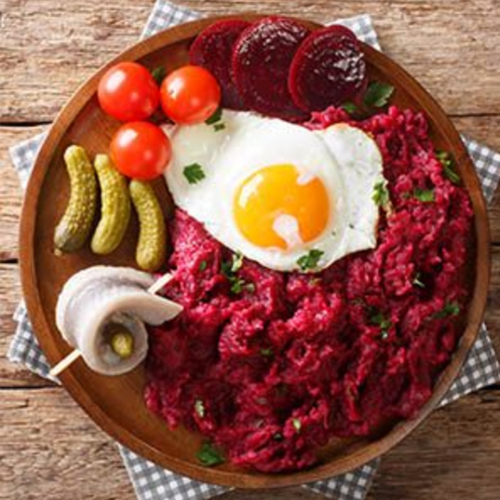 A traditional meal made from Rollmops herring, corned beef, red beets and potatoes, served cold and popular in the Northern part of Germany. Simple, yet sophisticated.
Region
Mecklenburg-Vorpommern, Schleswig Holstein, Hamburg, Bremen
Ingredients
1

small onion

chopped

4

tsp

butter or margarine

divided

1

lb

potatoes

peeled and quartered (about 4 medium)

1/2

cup

milk

1

cup

beef broth

10

oz

corned beef

or 1 can, chopped

1

in

small can of sliced pickled beets

1

tbsp

pickled beet juice

9

Rollmops

pickled herring wrapped around a gherkin pickle

3

eggs

dash of salt

dash of pepper
Instructions
Cook the potatoes in salted water until soft. Brown the onions in 2 tsp butter for 3 minutes and remove from heat. Brown the corned beef cubes in the same pan until warmed through. Chop 5 beet slices small, reserving the rest.

Drain the potatoes and add the milk. Mash the potatoes with a potato masher. Add enough broth to moisten the potatoes. Fold in the browned onions, chopped corned beef, chopped beets and the beet juice. Season with salt and pepper.

Using a skillet, melt 2 teaspoons butter and fry the 3 eggs. Salt and pepper to taste.

Divide the Labskaus onto 3 pre-warmed plates. Arrange one fried egg on top of each mound of Labskaus, add the Rollmops, the reserved pickled red beets and spicy German pickles and serve at once.
Recipe adapted from germanfood.about.com