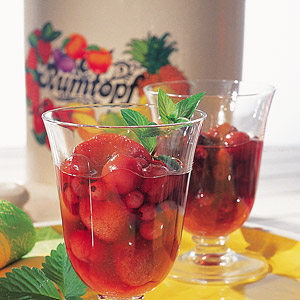 This is a traditional dessert served during the festive holiday season in Germany. Although it's easy to make, it takes several months before it is actually ready to eat. So, ideally you should start making your Rumtopf in early summer to be able to enjoy it during Advent and Christmas. In order to make it in the classic German style it is best to purchase a large stoneware Rumtopf jar that is slightly porous. You will also need a dark cool place in which to store it while the fruit ferments. There is no exact recipe for Rumtopf since the idea is to add seasonal fruits, sugar and rum in proportion to one another during the summer and autumn months. Just make sure to allow at least 2 weeks after you add new fruit and rum before you start eating it in order to allow time for the new fruit to ferment. Rumtopf marinated fruit can be served with ice cream or quark or can be used in other dessert recipes.
Ingredients
To start a Rumtopf:
2

lbs

soft fruits such as stoned cherries

plums, raspberries, blackberries, strawberries, sliced peaches, red and black currants and blueberries

12

oz

sugar

1

liter

strong dark rum
To add to the Rumtopf:
1

lb

seasonal fruits

1 pound fruit for every 6 oz sugar

extra dark rum as required
Instructions
Pick over the fruit and make sure none of it is damaged or dirty. You need to ensure the fruit does not go moldy as it matures. Mix the fruit and sugar in a large bowl overnight until the juices start to run.

Mix in the rum and spoon into a special Rumtopf jar or tall preserving jar. Make sure the fruit is submerged beneath the liquid: cover with a sheet of wet greaseproof paper scrunched up and one or two tea plates to weigh the fruit down.

As the summer progresses, add more fruits and sugar in the proportions given above, stirring the contents gently to mix. Seal again with a clean piece of greaseproof paper and the lid. You can add more rum if liked after about 4 weeks; it is not essential, although it does give it a lively kick.
Recipe courtesy of Roz Denny from Modern German Food