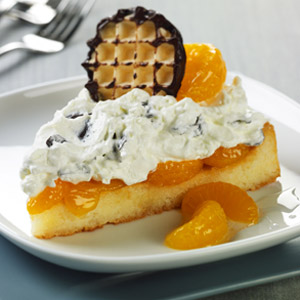 Alexander Haebe, Executive pastry chef at the Mandarin Oriental Hotel in Washington, DC, has created this exclusive cake recipe. Fresh marshmallow kisses from Germany give the cake its unique texture and flavor, mandarin oranges balance the sweetness. When using a prepared sponge cake, this becomes a no-bake dessert which can be put together really quickly. For those who prefer home-baked to store-bought, we've included a special sponge cake recipe.
Ingredients
1

prepared sponge cake OR one marzipan sponge cake

10-inch, recipe below
For the home-made marzipan sponge cake (optional):
1/4

cup

flour

25 g

1/4

cup

corn starch

30 g

1 1/2

tablespoons

dark chocolate chips

finely minced, 20 g

3 1/2

ounces

genuine German marzipan

100 g

seeds of 1/2 vanilla bean

zest of 1/2 lemon

3

egg yolks

2

egg whites

1/4

cup

sugar

50 g

pinch

of salt
For the topping:
12

genuine German Marshmallow kisses

(such as Grabower, Topkuss or Dickmanns)

1

cup

cream cheese

250 g

3/4

cup

plus 2 tablespoons whipping cream

200 g

1

can

mandarin oranges

(11 oz, or 312 g)
Instructions
For the marzipan sponge cake:
Line one 10-inch cake pan with parchment paper. Preheat the oven to 340 degrees F (170 degrees C).

Sift the flour and corn starch into a bowl, reserving 1/4 teaspoon of corn starch for later. Mix in the minced chocolate chips and set aside.

Mix the marzipan, vanilla seeds, lemon zest and 1 egg yolk. Add the rest of the egg yolks gradually and whisk until fluffy.

Beat the egg whites, sugar and salt until stiff peaks form. Add in the 1/4 teaspoon of corn starch and beat the mixture briefly. Fold a third of the egg white into the marzipan mixture, then gradually add the rest and mix. Add the flour and chocolate mixture last and combine well.

Pour batter into the prepared cake pan and bake for 40 minutes at 340 degrees F (170 degrees C). Let the sponge cake cool and remove it from the pan.
For the topping:
Carefully remove the wafers from the bottom of the Marshmallow Kisses and keep them for decoration.

Put the Marshmallow Kisses in a bowl and mash with a fork to break the thin chocolate cover into small pieces. Combine the lemon juice and zest with the cream cheese and fold the mixture into the Marshmallow Kisses. Whip the cream and fold it into the Marshmallow Kiss mix.
Presentation:
Strain the Mandarin oranges and arrange them on top of the sponge cake, completely covering it. Add the Marshmallow Kisses mix on top of the oranges and spread it evenly on top. Chill for at least 1 hour.

Before serving, decorate the cake with the waffles from the bottom of the Marshmallow Kisses and some mandarin oranges.
Recipe courtesy of Chef Alexander Haebe