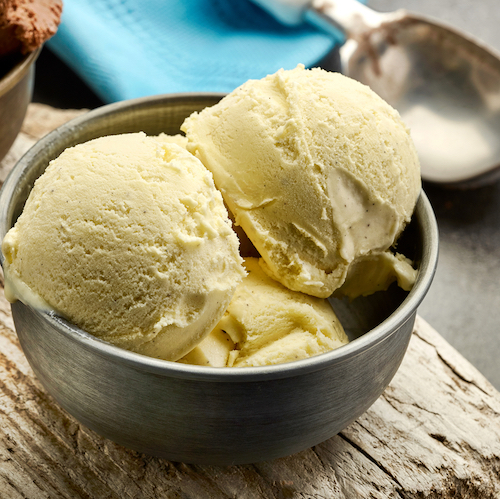 Marzipan ice cream is definitely an unusual way to use marzipan, but it totally works! Serve the ice cream as is or top with sliced grilled peaches, dark sweet cherries, or chocolate sauce.
Ingredients
4

cups

milk

2

cups

heavy cream

1/2

cup

sugar

6

extra-large egg yolks

lightly beaten

14

ounces

marzipan

diced
Instructions
Heat the milk, cream, vanilla beans, and sugar in an uncovered large saucepan over low heat for about 30 minutes, just until the mixture steams.

Whisk a little of the hot milk mixture into the beaten yolks, stir back into the pan, and cook, stirring constantly, over moderately low heat about 5 minutes. Form a very thin custard.

Scrape the black seeds from the vanilla beans into the custard, discarding the pods. Remove the custard from the heat and cool 10 minutes.

Place the marzipan in a food processor fitted with the metal chopping blade. Add 1 cup of the warm custard and pulse 3 or 4 times to soften the marzipan. Add another cup of the warm custard and pulse quickly. Blend 1 minute, until the marzipan is completely smooth. Combine with the rest of the custard.

Pour mixture into two 9x5x3-inch loaf pans and freeze until mushy (about 4-5 hours). Empty the partially frozen ice cream into a large electric mixer bowl and beat 1-2 minutes at highest speed, until fluffy. Pack into a 1/2-gallon plastic freezer container and freeze until soft-firm.
Recipe courtesy of The New German Cookbook by Jean Anderson and Hedy Würz
Related cookware:
Cuisinart 2 Qt Ice Cream Maker