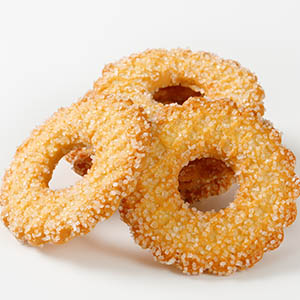 Mecklenburger Eierkränzchen
Classic Christmas treat from Mecklenburg-Vormpommern with a sweet eggy lemon flavor. Before there were Christmas trees, which first came into fashion in mid-19th century Mecklenburg, children received their Christmas gifts in their stocking caps - today's lavish gift-giving did not exist at that time. Children put their hats on the window sill, and the parents filled them with pastries, including these egg wreaths.
Region
Mecklenburg-Vorpommern
Ingredients
To decorate:
4

egg whites

4

tbsp

granulated sugar
Instructions
Preheat the oven to 440°F/225°C.

Melt the butter and beat with the sugar and lemon peel until fluffy. Press the hard-boiled egg yolk through a sieve, add to the butter mixture and stir well.

Add the flour and knead into a dough. Cover the dough and let sit for an hour.

Form the dough into finger-sized rolls. Cut the rolls into pieces about 4-3/4 inches long, shape into wreaths and place on a greased baking sheet.

For the decoration, beat the egg whites until somewhat stiff. Coat the wreaths with the egg whites and sprinkle generously with the granulated sugar.

Bake the wreaths in preheated oven for 12-15 minutes.
Notes
Preparation time: 30 minutes (plus resting and baking time)