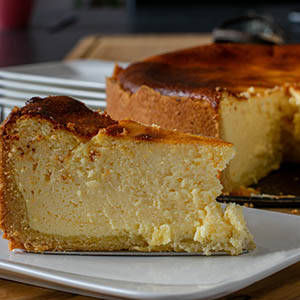 Saxon cake featuring Quark, a spreadable curd cheese popular in Germany, enriched with raisins, almonds and rum.
Ingredients
2-1/4

lb

quark

12

tbsp

butter

1-1/2

cup

sugar

6

eggs

1

tsp

grated lemon zest

3

tbsp

lemon juice

2/3

cup

semolina flour

1

tsp

baking powder

1

tbsp

flour

1

pinch

salt

3

tbsp

butter for brushing the cake

1

cup

powdered sugar for dusting
Instructions
Drain the quark in a colander. Preheat the oven to 350°F/180°C.

For the batter: beat the butter with the sugar until light and fluffy. Separate the eggs, and put the egg whites aside. Gradually beat the lemon zest and lemon juice into the egg yolks until they form a frothy mass.

Mix together the semolina flour, baking powder and flour. Stir the drained quark into the dry mixture. Add the quart batter to the egg yolk mixture and stir.

Beat the egg whites with the salt until they form a stiff meringue, then add to the batter and fold in well.

Pour the mixture into a greased springform pan (11 inches) and smooth out the surface slightly.

Bake the cake in at 350°F/180°C for about 45-60 minutes.

Remove the cake from the oven, and loosen the edges with a knife. While the cake is still warm, brush it with melted butter. Sprinkle the warm cake with powdered sugar and allow to cool completely.

Add raisins, slivered almonds and/or a dash and rum, as desired.
Notes
Preparation time: 20 minutes (plus baking time)