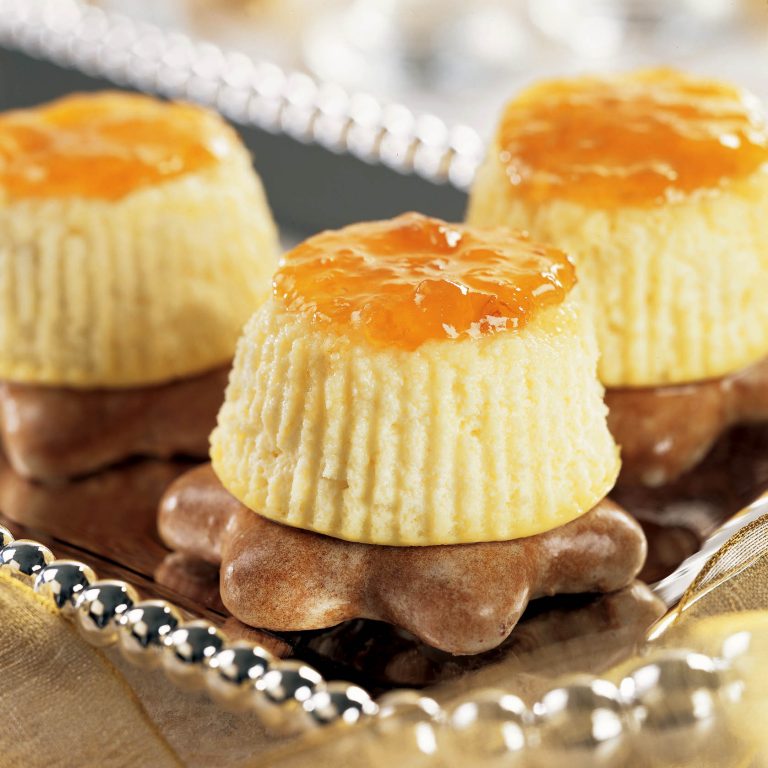 These festive little bites are much lighter in texture than most American cheesecakes are. If you'd like, for a creamier texture you can substitute 2 pounds quark for the ricotta and sour cream the recipe the recipe calls for -- quark is a German-style yogurt cheese.
Ingredients
2

pounds

whole-milk ricotta

1/4

cup

sour cream

1/2

cup

heavy whipping cream

2/3

cup

sugar

1

vanilla bean

1

teaspoon

grated orange peel

orange part only

4

eggs

12

round German Lebkuchen

3 inches diameter
For the apricot compote:
1

16-ounce

jar German apricot preserves

1/4-1/2

cup

German apple juice or German brandy
Instructions
Preheat oven to 350 degrees F. Line a muffin tin with 12 paper muffin liners.

Beat together ricotta, sour cream, whipping cream and sugar. Slit vanilla bean lengthwise and scrape out seeds; add seeds and orange zest to ricotta mixture. Beat in eggs 1 at a time.

Divide mixture among prepared muffin liners. Bake until a toothpick inserted in the center of one of the cakes comes out clean, 25 to 35 minutes. Cool on a rack, then refrigerate for at least 1 hour before removing paper liners. Invert each cheesecake on a gingerbread cookie, and top with warm apricot compote.
For the Apricot compote:
Heat 1 16-ounce jar German apricot preserves in a small saucepan. Stir in 1/4 to 1/2 cup German apple juice or German brandy to thin. Bring to a simmer and serve.