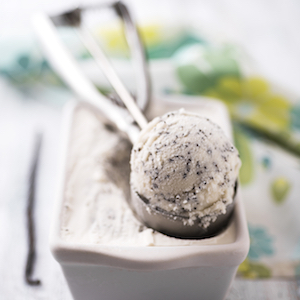 Poppy seed ice cream is a simple and nutty flavor that pairs nicely with any fruit or fruit compote. Grinding the seeds brings out a subtle, fruitier flavor.
Ingredients
3-1/2

cups

milk

1

cup

heavy cream

2

vanilla beans

split lengthwise

2/3

cup

sugar

1/4

cup

honey

1/3

cup

freshly ground poppy seeds

4

extra-large egg yolks

lightly beaten
Instructions
Heat 2 cups of milk, cream, vanilla beans, sugar, and honey in an uncovered large saucepan over low heat for about 30 minutes, just until the mixture steams. Meanwhile, heat the poppy seeds with the remaining 1-1/2 cups milk in a small saucepan over low heat for 10 minutes. Remove from heat and cool to room temperature.

Whisk a little of the hot honey-milk mixture into the beaten yolks, stir back into the pan, and cook over moderately low heart for about 5 minutes, stirring constantly, till it forms a very thin custard.

Scrape the seeds from the vanilla beans into the custard, discarding the pods. Remove the custard from the heat, set in an ice bath, and cool for about 30 minutes. Whisk often to keep a skin from forming on the surface.

Pour the poppy seed-milk into the custard and stir well. Pour into a 9 x 5 x 3-inch loaf pan and freeze until mushy (about 4-5 hours).

Empty the partially frozen ice cream into a large electric mixer bowl and beat 1 to 2 minutes at highest speed, until fluffy. Pack into a 1/2-gallon plastic freezer container and freeze until soft-firm.
Recipe courtesy of The New German Cookbook by Jean Anderson and Hedy Würz
Related cookware:
Cuisinart 2 Qt Ice Cream Maker