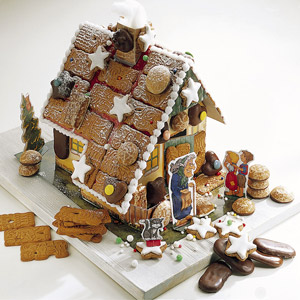 Gingerbread houses are often old-fashioned looking, but they don't have to be. Let this recipe for a townhouse with a garage and a skylight be your guide to all kinds of modern, whimsical possibilities. Use German cookies and candies to make it authentic, as gingerbread houses were first made as a Christmas tradition in Germany.
Ingredients
12

tablespoons

unsalted German butter

softened, 1-1/2 sticks

1-1/2

cups

light brown sugar

2

large eggs

1

cup

dark molasses

1

tablespoon

fresh orange juice

6

cups

all-purpose flour

1/2

teaspoon

baking powder

4

teaspoons

ground ginger

3

teaspoons

ground cinnamon

1/2

teaspoon

salt
For the Stiff Icing:
2-2/3

cups

confectioner's sugar

2

tablespoons

powdered egg white

1/4

cup

water
To Decorate the house:
Instructions
Beat together flour and sugar until light and fluffy. Add eggs one at a time, beating after each addition. Beat in molasses and orange juice. Stir together flour, baking powder, ginger, cinnamon and salt in a separate bowl, and add half of this dry mixture to molasses mixture, beating until smooth. Add remaining flour and beat until it comes together; knead by hand until completely smooth and workable. Wrap dough tightly in plastic and let rest in a cool place (but not the refrigerator) for an hour or two.

Meanwhile, cut out patterns using lightweight cardboard. For the roof, cut two 6 1/2by 7-inch rectangles. For the front and back, cut two 12-inch high by 5 1/2-inches wide rectangles; to create a triangle at the top, fold the sides until they meet exactly in the middle of the top, 2 3/4 inches in, and cut along the fold marks. For the sides, cut two 7 1/2-inch high by 5-inch rectangles.

Preheat oven to 350 degrees F. Divide gingerbread dough in half; cover one half with plastic, and place other half on a large sheet of parchment paper. On the paper, roll dough to 1/4 inch thickness. Rub dough surface very lightly with flour, and place any many patterns on dough as will fit. Use a sharp knife to cut them out. Use paper underneath to transfer them to baking sheets, cutting it away from other pieces as necessary. Re-roll dough as necessary, though work quickly to keep it moist.

If desired, cut a skylight into one of the roof pieces. Press a rectangle "door" cookie on front piece, and a larger rectangle "garage" cookie on back piece. Cut out windows as desired on front, side and back pieces. Bake pieces just until sides begin to darken, 10 to 15 minutes.

To put house together, it's helpful to have two people. Prop up the front and a side, and use stiff icing to seal (stiff icing recipe below). Repeat with back and other side, and then seal the two pieces together. Assemble inverted v-shape roof by itself, and then attach it to house. (If it's not important that the house be edible, it's an easy alternative to construct a house first out of the cardboard pattern pieces, using heavyweight tape to attach them, and then glue the gingerbread pieces over it.)

Place the house on a piece of foil-covered heavyweight cardboard, and decorate from there, using stiff icing to attach candies and cookies as shingles, roof decorations, trim, stepping stones, bushes, and perhaps a driveway and some garden adornments.
For the Stiff Icing:
Beat together 2 2/3 cups confectioners sugar, 2 tablespoons powdered egg white and 1/4 cup water until stiff. Cover tightly and store up to two weeks; this dries to be very firm and makes a good "glue" for gingerbread houses.
Notes
*Try the following suggestions for decorating your gingerbread house:
Small, thin rectangular chocolates or cookies, such as Katzenzungen (literally translated, "cat's tongues") or chocolate-covered wafers, to use as roof shingles
2 Dominosteine (tiny layer cakes of gingerbread, jam and marzipan, covered with chocolate) to use as chimneys
Zimtsterne (cinnamon star cookies) to use as roof decorations
Larger rectangular cookies, such as butter cookies, chocolate-covered butter cookies, or Spekulatius (almond-gingerbread cookies) to use as a front door and garage doors
Colorful hard candies and licorice to use as house trim (German hard candies come in flavors including various fruits, malt, peppermint, honey and coffee)
Colorful German gummi candies to use as house and garden decorations (these come in many flavors and shapes including rings, alphabet letters, cars, bears, worms and frogs)
Marzipan animals, fruits and vegetables, to use as garden decorations
Flat, bite-sized cookies such as Pfeffernüsse (spicy gingerbread) to use as stepping stones and garage tiles
Round sandwich cookies to use as windows
Chocolate truffles, marzipan chocolates, or other chocolates to use as bushes or a fence