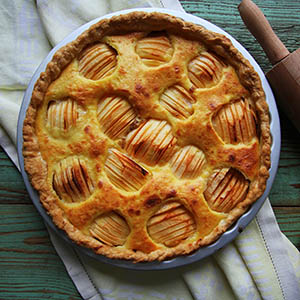 Golden glazed apple slices baked with almond and fruit liqueur within a sweet cake dough shell.
Ingredients
9

oz

flour

4-1/2

oz

butter

8

oz

sugar

1

tsp

vanilla extract

4

eggs

butter for the baking-tin

7

apples

2

Tbsp

orange juice

2

tsp

apple liquor

1

oz

cornstarch

pinch

of baking powder

7

oz

finely grounded almonds

melted butter
Instructions
Knead flour, butter, 2-3/4 oz of the sugar, vanilla extract and 1 egg, and place the dough in the refrigerator for about 30 min.

Preheat the oven to 350 degrees.

Spread the dough evenly within the bottom and the sides of a spring form pan. Bake the unfilled cake for 12 to 15 minutes.

Take the remaining three eggs and separate the egg yolks from the egg whites. Beat the egg yolks and 5-1/4 oz sugar until foamy. Peel and quarter one apple, remove the seeds and then grate it. Add the orange juice, apple liquor and grated apple to the beaten egg foam. Mix in the cornstarch, baking powder and almonds.

Whisk the egg whites until they form stiff peaks and add to the ground almonds. Pour this mixture on top of the cake dough.

Peel and quarter the remaining six apples. Core the apples and remove their seeds. Score the outer surfaces of the apples with a fork so that they look like the apples shown in the picture. Place the apples on the almond mixture and brush them with melted butter.

Bake the cake for 45 to 50 minutes in a preheated 350 degree oven.