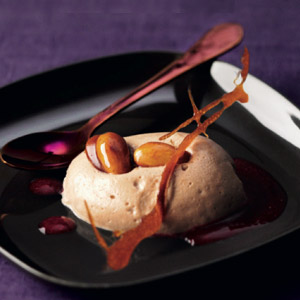 A delightful, fruity mousse made with marzipan, Cointreau and Cuandole (marzipan liquor), dressed with kumquats. A true delight for both visual and gustatory senses.
Ingredients
4

sheets

gelatin

1

cup

milk

250 ml

7

oz

Niederegger white marzipan loaf

200 g

3

tbsp

orange liqueur

for example Cointreau

1/2

cup

chopped almonds

40 g

2

tsp

orange peel

2

eggs

1

cup

whipping cream

200 g

2

sachets

vanilla sugar

1/3

lb

kumquats

150 g

4

tbsp

brown sugar

4

tbsp

orange juice

1/2

cup

Cuandolé liquor or Bailey's
Instructions
Soak the gelatin in cold water.

Heat the milk, dice the marzipan and dissolve in the milk while stirring. Add the orange liqueur, almonds and orange peel. Separate the eggs and stir the egg yolks with the marzipan mixture. Squeeze excess moisture from the gelatin and then dissolve it in the marzipan mixture. Place it in the refrigerator for about 30 minutes.

Whip first the egg whites and then the cream with vanilla sugar until stiff. Fold in first the cream and then the whipped egg whites into the marzipan cream mixture. Pour it into a not too large bowl and refrigerate for at least 4 hours.

In the meantime, wash the kumquats well and cut them into slices. Carefully melt the brown sugar in a pan, then stir in the orange juice, add the kumquats and let it caramelise over a medium heat while stirring for approx. 5 minutes.

Scoop out portions of the marzipan mixture and arrange them on dishes along with the kumquats and the Cuandolé. If desired, serve with lemon balm and chopped almonds.
Recipe courtesy of Niederegger