This specialty from northern Germany is also known as Gröne Hein (Green Henry), most likely named after the green beans in it. The combination of sweet and sour is a characteristic that North German cooking has in common with the cuisines of nearby Scandinavia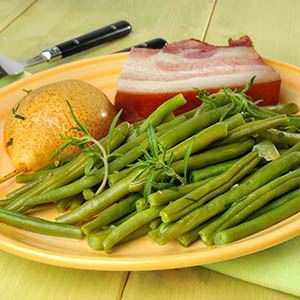 Birnen, Bohnen, Speck (Gröne Hein)
This specialty from northern Germany is also known as Gröne Hein (Green Henry), most likely named after the green beans in it. The combination of sweet and sour is a characteristic that North German cooking has in common with the cuisines of nearby Scandinavia.
Region
Schleswig-Holstein
Ingredients
24

oz.

fresh or frozen green beans

6

oz

lean center-cut bacon

10 to 12 thin slices

1

sprig

fresh savory

or 1/4 teaspoon dried

8

small firm pears

salt and freshly milled black pepper

1

tbsp

finely chopped fresh parsley
Instructions
Trim the beans and, depending on their length, cut them in half or thirds.

Cut the bacon into small strips and place in a large cold saucepan. Cook over medium heat until the fat has been drawn out. Add 2 cups water, the beans, and the savory.

Peel the pears and remove the stems. Place the whole pears on top of the beans and cover. Simmer over medium heat for 25 to 30 minutes, or until the pears are soft.

Remove the pears from the pan. Carefully season the beans with salt — they might already be salty enough from the bacon — and pepper and garnish with parsley. Put them in a serving dish and place the pears on top. Serve hot.
Recipe courtesy of Nadia Hassani, Spoonfuls of Germany