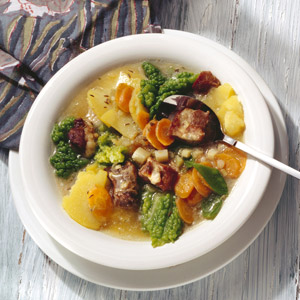 Once upon a time in the late 18th century, a poor farmer's wife in South East Bavaria had to feed a band of marauding soldiers (the infamous Trenk Pandurs) from the Austrian Empire. Only a few pieces of cabbage and carrots and scraps of beef, mutton and pork was all that was left that day (potatoes were not known in Germany at that time). Nevertheless, she threw all she had into a big pot and apparently concocted such a good meal that she and her family not only survived the attack bit also preserved the recipe for future generations. A century later, in 1879, legendary cook and restaurant owner Auguste Winkler living close to the very, very small village of Grattersdorf (somewhere between Regensburg and Passau, close to the Czech Republic) was asked to prepare a meal for a large outdoor party that took place on the top of a forested mountain called Büchelstein, It was July, but it must have been rainy and unseasonably cold. So she re-created a locally known one-pot recipe with cubes of lean pork, beef and lamb or mutton, and chunks of celery, leeks, carrots, savoy and other cabbages. That heat-warming meal eventually became the famous Pichelsteiner(derived from Büchelstein) and the party became one of South-East Bavaria's largest festivals. Although this festival tales place in July, the one-pot Pichelsteiner is a perfect meal occasion for cold winter days. Enjoy!
Ingredients
1/2

pound

boneless lamb shoulder

1/2

pound

boneless beef chuck

1/2

pound

boneless pork

from belly

4

teaspoon

butter or lard

1

quart

vegetable broth

3

large carrots

1-1/2

cups

green or savoy cabbage

1

cup

celeriac

1

cup

leeks

1

cup

celery

1

cup

parsnips

1

cup

kohlrabi

1/2

cup

chopped onions

salt and black pepper

3-4

tbs

parsley

3

medium cut potatoes

optional

1/2

cup

crème fraiche

optional

1/4

lbs

bone marrow

optional
Instructions
Peel and cut the vegetable into finger-thick chunks. Cut all the meat into 1-inch thick cubes. In a big skillet brown the meat on all sides; scrape the brown parts from pan; set aside.

Saute the onions until brown and set aside. Saute the vegetables and set aside.

Now put all ingredients in a big pot, in layers one by one, sprinkling each layer with salt and pepper. First the meat, then the onions, then the vegetables, then the potatoes, if used..

Pour the vegetable broth over the top. Bring to a boil over high heat, then reduce the heat to its lowest level and cover the pot tightly. Let the stew simmer for 1-1/2hours without stirring.

Serve directly out of the pot.