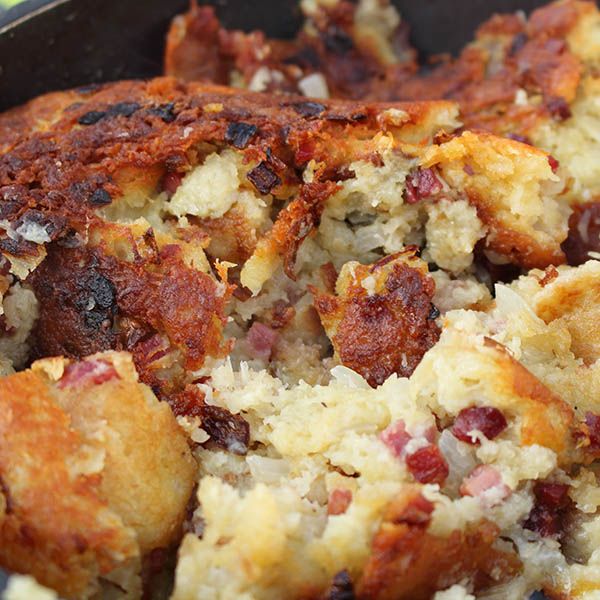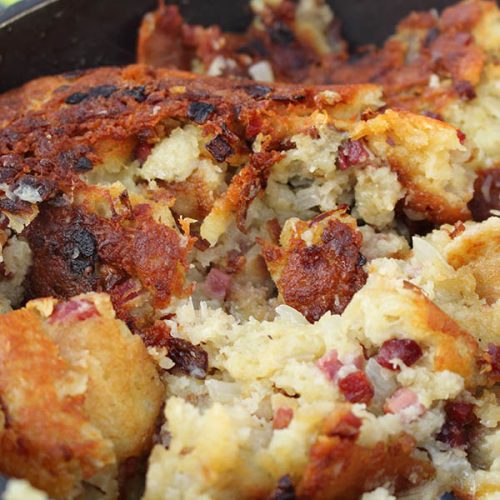 Saarland's signature dish, Dibbelabbes, is an oven-baked potato-leek hash, prepared from grated raw potatoes, bacon or pork belly and leeks in a Dibbe (pot) and baked in the oven.
Ingredients
1/2

pound

smoked or cured meat

(bacon or pork belly work well)

2

leeks

2-3

medium onions

2

pounds

potatoes

2

eggs

salt and pepper

marjoram

nutmeg

1/2

cup

chopped fresh parsley
Instructions
Dice meat and slighty fry it in a cast-iron pot or skillet. Thoroughly clean and trim the leeks, halve them lengthwise and slice them very thinly. Chop the onions finely. Add the leeks and onions, sauté until they turn translucent and let cool.

Preheat oven to 375 degrees F.

Peel potatoes, grate them and, using a cheesecloth, squeeze out the liquid. Beat the eggs and combine them with the ingredients in the skillet. Season to taste with salt, pepper, marjoram, nutmeg and parsley. Cover the pot and place into the oven for 1 - 1-1/2 hours. (If you do not own a large enough skillet or Dutch oven, you may also use a large baking dish.) In order to achieve a crunchy top layer, remove lid 15 min taking the dish out.

Serve hot with a salad or apple puree and a semi-dry white wine.
Recipe used with permission from 'Spoonfuls of Germany.'
Notes
Note:
Schales is a variation of Dibbelabbes, using the same ingredients but a different method of preparation. The ingredients are sautéed in a pan under constant stirring. The word Schalen means the crispy bits which form when frying the potato dish.
Nadia Hassani (in her cookbook Spoonfuls of Germany) has this interesting piece of information on the origin of this interesting dish: "...a potato dish known as Dibbelabbes in Saarland is known as Schales or Scholet in Palatinate. Its, origin, however, goes back to the Jewish Sabbath dish Cholent, a stew that was prepared on a Friday and remained on the list stove during the Sabbath, when Jewish religious law forbids food preparation."
Spoonfuls of Germany: Culinary Delights of the German Regions in 170 Recipes (New York: Hippocrene Books, 2004)