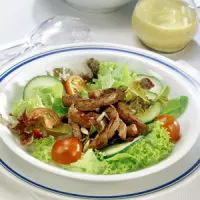 Are you worn out after a busy work day and too tired to prepare a five course meal? Treat your loved ones to tasty dinners even when you're short on time. Here are some fast and easy weeknight meal ideas to please the whole family.
Take it further by adopting the German concept of Abendbrot. Traditionally served between 6 and 7 pm, Abendbrot is a lighter evening meal usually consisting of bread, cheese, deli meat, and pickles, often accompanied by a light salad or soup. Browse our collection of Abendbrot recipes for inspiration.
Creamy, heavy split pea soup is traditional in Germany. This modern take is a much lighter, more healthful version, with lean German smoked prosciutto and fresh spring peas. It would be an appropriate Abendbrot meal, along with some hearty German bread or a thin cheese sandwich.
This light salad would be perfect with a thin sandwich of hearty German bread and Black Forest ham. Instead of using cheese and walnuts separately, it saves a step by using a walnut-studded soft cheese imported from Germany. And the pickled beets bring only 8 calories to the recipe per serving.
Starting with a mix makes these potato pancakes quick and easy; the added flavors of apples, caramelized onions and sour cream or quark make them delicious.
With only three ingredients, this dish is surely simple, and the mango brings unexpected color and flavor to grilled sausage skewers.
These breaded cutlets have a filling of mozzarella, basil and tomato.