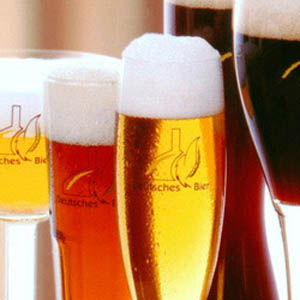 Yum, adding suds to soups, sauces or marinades add a distinct bitter-sweet flavor to your recipe. Try favorite brews in soups, barbecue, and even veggies from our collection of recipes with German beer. Many feature the flavor match of pork and dark beer, or the wonderful base note that beer adds to onions!
Onion soup with a Bavarian Oktoberfest twist, quick and easy to make.
German cheeses and beer combine with touches of chili and whole grain in a tasty soup with a warming color and flavor.
Grilled chicken marinated in German flavors of dark beer, mustard, lemon and herbs. Great bit of German barbecue.
The preferred cut for this popular grilling meat is taken from the pork neck. The dark beer (Altbier) marinade boosts the meats flavor and helps tenderize it.
Grilled German bratwurst gets a flavor boost from simmering in a Hofbräu beer sauce.
Courtesy of Hofbräu, this recipe for coleslaw is enlivened with a bit of the famous brew. A great side dish for sports event parties or summer barbecues.
This version of sauerbraten by Chef Szmania uses dark German Altbier in the marinating stage. A really delicious, old world German hearty dish.
Pork loin marinated overnight in a honey, mustard and beer, then roasted.
Crusty, crunchy pork knuckles baked in a dark beer sauce with vegetables, a classic Bavarian dish.
Roasted herb-crusted pork tenderloin served with potato pancakes, brussel sprouts leaves and a dark beer jus.
The flavors of different fresh fruits and dark German beer come together in this great punch.
The popular drink made of dark beer and lemon soda.
A refreshing cooler made with German wheat beer, sparkling wine and raspberries.