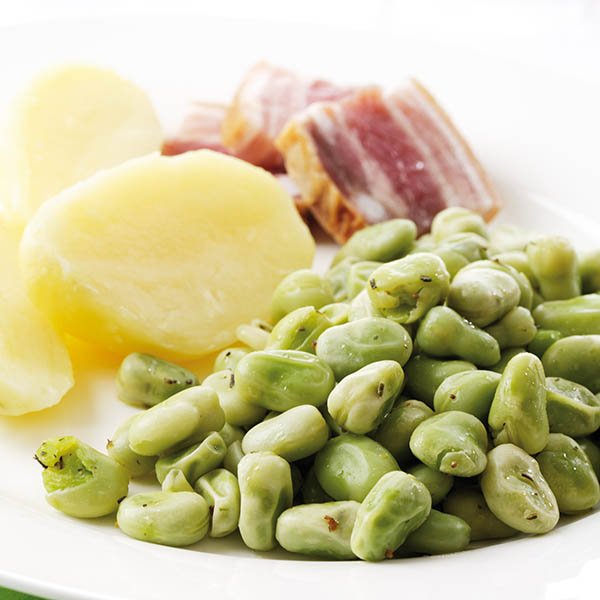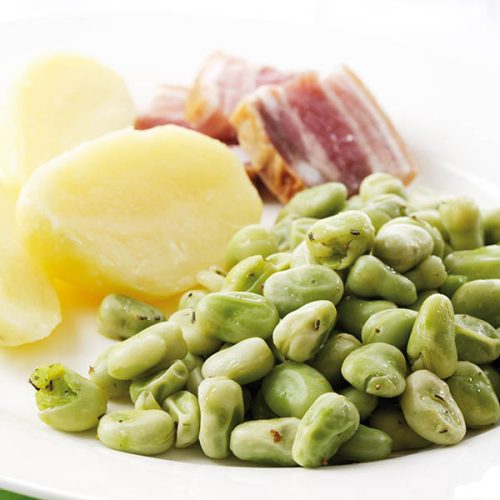 Cologne's iconic brewery snack, Dicke Bohnen mit Speck, came from humble origins. In the meantime, even haute cuisine has discovered fava beans as a delicacy. Broad beans (fava beans) are not only low in calories and high in fiber, they also contain a lot of valuable protein and plenty of minerals such as potassium, calcium and magnesium. Those are a couple of good reasons, to try them out, aren't they?
Ingredients
Instructions
Bring 3/4 liter water with 1 tsp salt to a boil. Put the broad beans in the boiling water. (They should be just covered.) Add the savory. Simmer the beans gently until done.

Meanwhile, dice onion and bacon.

Melt the butter in a saucepan that will later have plenty of space for the beans and their liquid.

Add the onions and bacon to the butter and sauté over medium heat until the onions are translucent. Dust with the flour and mix well. As soon as a layer forms on the bottom of the pot, add some of the bean water and mix everything until smooth. Then add some bean water again and stir until smooth. Repeat until you have a smooth, not too thick sauce. (If the bean cooking water isn't enough, simply add some cold water.) Stir in the broth concentrate. Let the sauce simmer for a few minutes over low heat. Add the broad beans to the sauce, as well as the Mettwurst. Allow everything to get hot. Season with pepper and, if necessary, with salt.

Serve with boiled or boiled potatoes.