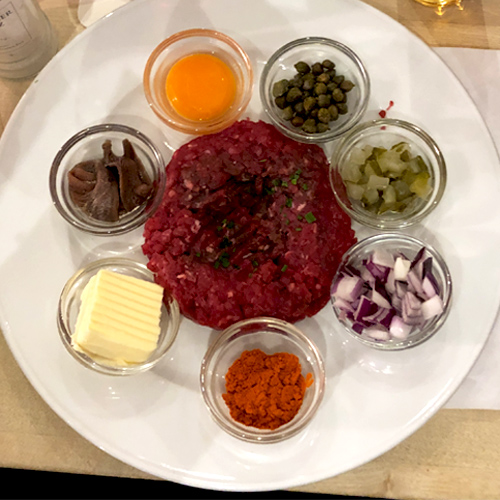 Steak Tartare is raw ground beef, seasoned with fresh herbs and mixed with a raw egg, chopped onions and pickles, capers, anchovies, and ground sweet paprika. Served on a rye roll with butter.
Ingredients
7

oz

fresh lean sirloin beef

2

tbsp

red onion

chopped

2

tbsp

dill pickles

chopped

1

egg yolk

2

tbsp

capers

1

tbsp

paprika

1

tbsp

anchovies

optional

1/4

bunch

parsley
Instructions
Chill the sirloin beef 15 minutes before mincing. This will make cutting easier.

Mince the beef until you have a finely chopped heap.

Chop 1/4 bunch parsley and mix well into beef. Place beef in the center of a plate and make a small dent in the middle.

Crack the egg and separate the yolk without breaking. Serve in a small cup placed next to the beef.

Chop onion and pickle. Serve separately in small cups and place next to the beef. Do the same with the paprika, capers, anchovies and butter.

After serving the beef and ingredients, mix the beef with all ingredients, add salt and pepper to taste and eat on a crunchy rye roll.

You can add hot Dusseldorf mustard, Worcestershire or tabasco sauce as well, if you like.
Notes
Recipe for Rhineland Rye Rolls
Steak Tartare originated in France many centuries ago. With the occupation of the Rhineland by Napoleonic troops in the beginning of the 19th century, many wonderful French culinary traditions were adopted and adapted in the region. Over time, the dish spread throughout Europe,  known as rabiff in Sweden or gyuniku sashimi in Japan.