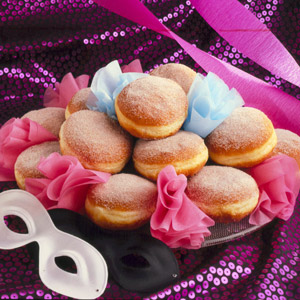 Nothing's more delicious than a
Krapfen
(jam-filled donut) at Karneval - especially those filled with rosehip jam - paired with Glühwein or hot rosehip tea. Rosehip is one of the healthiest "superfruits" with lots of Vitamin C for the winter season. You can easily make your own rosehip donuts at home - a great joint activity for both parents and children. For a donut with a bit of zesty citrus flavor, try
Eberswälder Spritzkuchen (Crullers with Lemon Frosting)
.
Instructions
Pour milk into a glass and put the butter into a mug. Put both into a pan of hot water.

Crumble yeast into milk and stir. Let butter melt and milk with yeast rise about 20%.

Add flour and eggs into a blender. Add butter and milk with risen yeast. Blend thoroughly for about 5 minutes to form the dough. Let dough rise for 30 minutes in a warm place.

Roll dough into elongated shape on a floured surface or non-stick mat, using two flat wooden sticks as rolling aids.

Take the milk glass and cut out 8 circles from the dough. Let dough circles rise for 10 more minutes.

Place dough rounds into deep-fryer or large pot filled with oil. Deep-fry bottom half until brown (about 4 minutes) then turn to deep-fry the other side. Take out and place on cake rack to dry.

Fill a baking syringe with rosehip jam. Pierce the Krapfen with the syringe and fill with the rosehip jam, not too much and not too little.

Dust Krapfen with confectioners sugar

Enjoy!
Adapted from Maintal Confiture
Notes
German recipes often omit detailed measurements and instructions. But there's a video that gives a step-by-step demonstration of this recipe by the owner of Checko's Backstube, in Schwabach, South of Nürnberg.