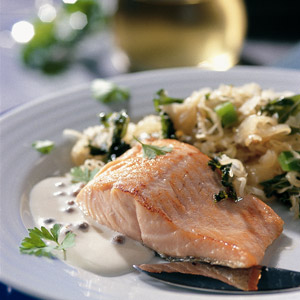 Lachs mit Sauerkraut und Kohl aus der Pfanne
Fish and sauerkraut is a popular combination in Germany, particularly using freshwater river and lake fish. For a lighter Sauerkraut flavor, look for Weinkraut which is steeped in white wine. It is very tasty stir-fried with shredded fresh cabbage.
Ingredients
4

fresh salmon fillets

2oz each, totalling 120 g

a small glass

dry white wine

3

tsp

pickled pink peppercorns

2

tbsp

quark

or substitute sour cream

sea salt and freshly ground black pepper

a little

chopped fresh parsley

to serve
For the stir-fry vegetables:
1/4

fresh green cabbage

1/2

500 g jar

genuine German Sauerkraut

drained

1

small onion

sliced thinly

1/2

green pepper

cored and sliced thinly
Instructions
Prepare the vegetables first. Cut the hard central core from the cabbage, and using a sharp knife shred as finely as possible.

Rinse the Sauerkraut in cold water then drain well, squeezing as dry as possible with the back of a ladle. Pat dry with paper towels.

Heat 2 tablespoons of the oil in a wok and stir-fry the onion and green pepper for 2 minutes. Add the fresh green cabbage and fry for another 2 minutes, then mix in the Sauerkraut and cook until piping hot. Season well, especially with pepper. Set aside to keep warm.

Heat the remaining oil in a large frying pan. Season the salmon and pan-fry for 3 minutes on the top side until nicely caramelized. Turn over carefully and fry the underside for 2-3 minutes until the flesh feels firm but not hard.

Remove the fish to a warm plate. Pour the wine into the pan along with the pink peppercorns and bubble until reduced by half. Stir in the quark (or sour cream), season and remove the pan from the heat.

Divide the vegetable stir-fry between four warm plates. Place a salmon fillet on top an spoon over the sauce. Sprinkle with some chopped parsley and serve.
Recipe courtesy of Roz Denny, Modern German Food