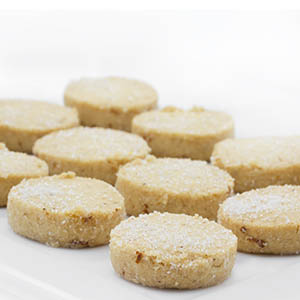 Short butter cookies with browned butter to mimic the sandy shores of Lüneburger Heide.
Instructions
In a saucepan, melt the butter and let it cook on medium heat until browned.

Remove the butter from the heat and let it cool first at room temperature and then in the fridge until it is solid again.

Put the cooled butter in a bowl and mix for about 30 seconds until it is creamy and fluffy.

Mix the flour with the baking powder. Slowly add the sugar, vanilla sugar, salt, milk and flour while mixing. Mix well but not too long.

Take the dough out of the bowl and continue kneading with your hands. Shape two long strings from the dough, each with a diameter of about 2 inches (5 cm). Let these strings rest in the refridgerator for at least 30 minutes until they have hardened.

Preheat the oven to 350° F (180° C) and line a baking sheet with parchment paper.

Cut the dough strings into slices about ¼-inch or 1 cm thick and place each slice on the baking sheet. Bake in the oven for about 10 to 15 minutes depending on the size and thickness of your cookies.

Remove the cookies from the oven when they are almost cooked in the middle, but not completely. Let the cookies cook a little on the baking sheet before you remove them.

Enjoy immediately or store in an airtight container for about a week.
Adapted from Spoonfuls of Germany by Nadia Hassani