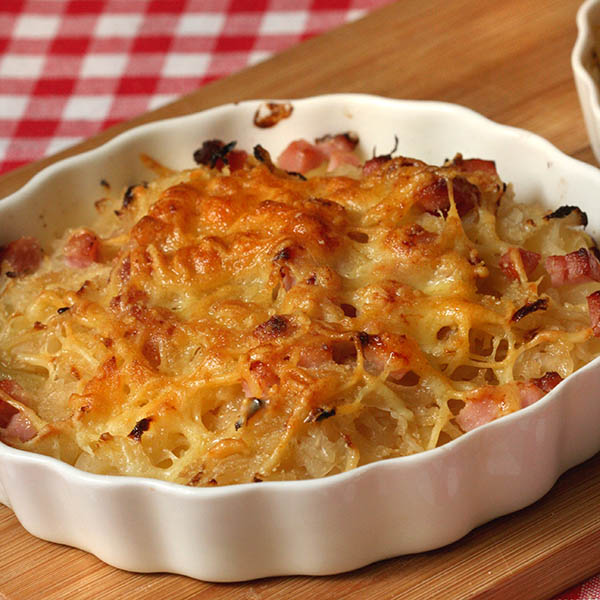 Sauerkraut-Kartoffel Auflauf mit Kasseler Rippchen
Easy to make casserole with sauerkraut, mashed and chopped potatoes, Kasseler pork meat (smoked and soaked in brine) and topped with sour cream, cheese and chives
Ingredients
1.5

lbs

large potatoes

1

pinch

salt

1/2

cup

milk

1

tbsp

butter

1

cup

chopped onion

2

tbsp

vegetable oil

2

laurel leaves

1

tsp

caraway seeds

14

oz

drained German Wine Sauerkraut

Hengstenberg

2

lbs

smoked boneless pork chops

Kasseler style (smoked and cured)

1

cup

crème fraîche or sour cream

1

bunch

chives
Instructions
Pre-heat the oven to 350˚F

Peel and wash potatoes. Boil for 30 min until soft. Strain in colander.

Mash 3/4 of the potatoes and mix with milk, butter and nutmeg. Chop the remaining 1/4 of potatoes. Mix mashed and chopped potatoes.

Peel and chop onions into small cubes. Fry in hot oil until translucent. Add laurel, caraway seeds and sauerkraut. Reduce heat to low, cover pan and simmer for 5 min. Take off the stove.

Cut Kasseler pork chops into thin layers.

Layer Kasseler pork slices alternately with the potato mix and sauerkraut mix in a casserole form.

Season sour cream with salt ad pepper. Pour over casserole. You can alos use 1/2 cup of sour cream and 1/2 cup of soft cheese, such as Cambozola Allgau cheese or Boursin herb cheese.

Bake casserole i oven for 35 min. Season with chives after cooking and serve hot.