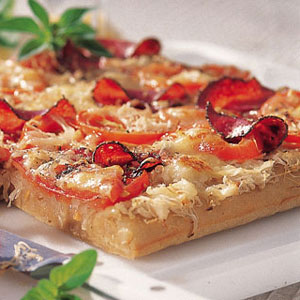 Discover the versatility of sauerkraut and add a healthy touch to your pizza with the following tasty supper treat. Perfect for those cool fall evenings! We suggest using German imported prosciutto or Black Forest Ham but salami may be substituted.
Ingredients
1

lb

package bread mix

or ready made pizza crust

1

onion

sliced thinly into rings

1/2

lb

German Sauerkraut

drained and rinsed

4

oz

German imported Black Forest Schinken

thinly sliced

1

large tomato

sliced thinly

3

oz

Bavarian Emmental cheese

coarsely grated

dried oregano or marjoram

freshly ground black pepper
Instructions
Prepare the bread mix according to package instructions. Roll out on a lightly floured board to a think rectangle large enough to fit a shallow lightly oiled baking tray (10 x 12 inches). Lightly grease the tray or line base with parchment paper. Or use ready made pizza crust for convenience.

Preheat the oven to 400 degrees F. Scatter the onion rings and sauerkraut evenly on top of the dough making sure they spread right to the edges.

Add toppings and sprinkle with herbs and seasonings.

Bake for 15 to 20 minutes until golden brown and bubbling. The bread base should be perfectly baked. Let the pizza stand for 5 minutes before cutting into squares.
Recipe courtesy of Roz Denny, Modern German Cooking