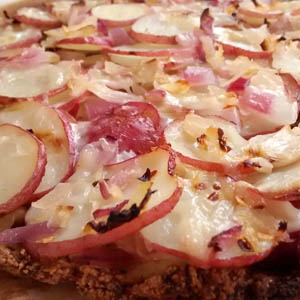 Sauerkraut-Kartoffel-Pizza mit Blumenkohl-Kruste
Fresh and live ingredients bring the power of fermented cabbage, onions, and potatoes to a updated, vegan take on German flavors. The cauliflower pizza crust is gluten free, bakes up golden and tasty, and pairs surprisingly well with a range of pizza toppings.
Ingredients
Cauliflower Pizza Crust
1

lb

cauliflower rice or pearls

3

tbsp

ground flax seeds

divided

3

tbsp

water

1/2

cup

almond flour

1

clove

garlic

finely minced
Topping:
1

cup

new potatoes

sliced very thin

1/2

cup

sauerkraut

1

clove

garlic

finely minced

1-1/4

cup

vegan mozzarella cheese shreds

such as Daiya

1/4

tsp

red pepper flakes
Instructions
Preheat the oven to 400 degrees (or to 'Low' setting on the Breville Crispy Crust Pizza Oven).
Prepare the crust:
Make a 'thick flax egg' by mixing 2 tbsp of the ground flax seeds with 3 tbsp water. Set aside to thicken.

Place cauliflower rice (or pearls) into a 2 qt saucepan, add water to cover, and bring to a boil. Cover, reduce heat to simmer, and cook for 5 minutes.

Drain the liquid and transfer the cooked cauliflower to a freezer-safe bowl. Cool in the freezer for 10 minutes.

Remove the cauliflower and transfer it to the center of a clean linen dish towel. Wrap the towel around the cauliflower and patiently wring out all the moisture you can.

Place the cauliflower in a large bowl, then add the flax 'egg', almond flour, the 3rd tbsp of flax seeds, salt, and minced garlic. Mix well.

Place the mixture onto the center of a parchment paper-lined baking sheet and shape into desired size (10-12"), keeping the crust about 1/4 inch thick, with no bare spots. If you want, form a little rim on the edge.

Bake for about 30 minutes in a regular oven, 25-30 in the Breville oven, till just golden on top. Monitor closely.

Remove the crust from the oven.
While the crust is baking, prepare the topping:
In a medium bowl, combine about a quart of lukewarm water with about 3 tbsp of sea salt and stir. Using a very sharp knife or mandoline, slice the potatoes very thin, about 1/16th inch, and place into the salted water. Soak for at least 30 minutes. (You could start this before you make the crust.)

Drain the potatoes in a colander, rinse well, and use a salad spinner to spin them dry.

In a medium bowl, mix the potato slices with the onion, sauerkraut, and mozzarella shreds. Distribute the mixture evenly over the baked pizza crust. Sprinkle red pepper flakes on top.
Bake the pizza:
Bake for about 15-20 minutes in preheated 400 degree oven (or about 10-15 minutes on 'Low' in the Breville oven), just until cheese is melted and potatoes have begun to brown.
Recipe courtesy of GFVeganPizzas.com
Notes
Soaking the potatoes in salted water keeps them from oxidizing and helps to soften them up. 30 minutes is the minimum soak time. For softer potatoes, soak for as much as overnight. You can also microwave the potatoes briefly after they've soaked to ensure that they really cook through.
Cheese eaters may want to use dairy cheese, and meat eaters may want to add about 4 oz of German speck, diced ham, or prosciutto.