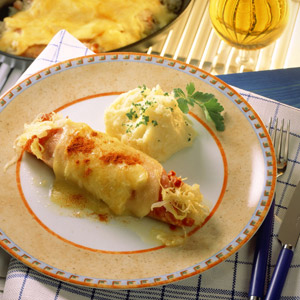 Schinken-Sauerkrautrollen
Flavorful savory rolls are filled bacon, ground pork, and sauerkraut and seasoned with leeks, juniper berries and clove. Delicious served with sour cream. Perfect for Oktoberfest entertaining.
Ingredients
1/2

cup

cream

1

cup

mushrooms

chopped

2

slices

bacon

1/3

pound

ground pork

1/4

cup

sliced leek

1

clove

3

juniper berries

crushed

1

cup

German wine sauerkraut

1/2

cup

crushed tomatoes

canned are fine

1

package

crescent rolls

10 ounces

1/2

cup

shredded German Emmentaler cheese

sour cream
Instructions
Preheat oven to 375 degrees F. Soak mushrooms in 1/4 cup of cream. Cut bacon in cubes. Begin cooking bacon on medium/high heat. Add ground pork and heat until cooked through. Let cool and drain excess grease.

Combine leek rings, clove, juniper berries, sauerkraut and tomato in a sauce pan. Simmer for 15 minutes. Add creamed mushrooms and allow to simmer until mushrooms soften. Drain liquid from mixture and let cool.

Unroll crescent roll dough into a rectangular shape and press seems together. Cover evenly with bacon and ground pork, then with the drained sauerkraut mixture. Roll dough into a log. Slice dough log 6 times and lay slices on a baking sheet (slices should look similar to cinnamon rolls). Pour remaining cream into rolls and cover with shredded Emmentaler cheese.

Bake at 375 degrees F for 20 to 25 minutes or until dough is golden brown. Serve with sour cream.