A Valentine's present you can eat, and perfect for making with your kiddos. These gingerbread hearts have a great texture   soft, chewy in the middle, firm on the bottom. They take icing and simple decoration well, but if you want a heart with elaborate piping and writing, you should bake the traditional Oktoberfest heart cookies, which are quite stiff. Just to be a little more different, we've made these vegan and gluten free. Of course you can still embellish them with loving or flirtatious messages as your heart dictates.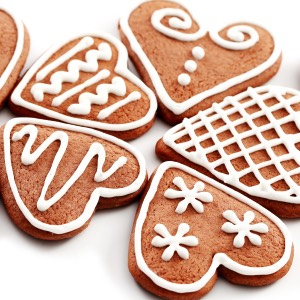 Ingredients
2

cups

gluten free flour

1

tsp

baking soda

1/4

tsp

salt

2

tsp

ground ginger

2

tsp

cinnamon

1/4

tsp

nutmeg

1/4

tsp

allspice

1

tsp

cocoa

1/2

cup

brown sugar

1/4

cup

vegan butter

such as Earth Balance

1/4

cup

molasses

(dark or Blackstrap is not recommended)

1

tbsp

ground flaxseed
Instructions
Make a flaxseed egg by adding 3 Tbsp warm water to 1 Tbsp ground flaxseed. Let soak for 5 minutes.

Mix together the flour, baking soda, salt, and spices (ginger, cinnamon, nutmeg, allspice, and cocoa) in a medium bowl.

In a larger bowl, cream the vegan butter and brown sugar, then add the molasses and flaxseed egg. Mix until everything is smooth and well combined.

Add the flour mixture to the butter mixture a bit at a time (~1/2 cup) to form a smooth batter.

Cover the bowl tightly and refridgerate for at least an hour. (Overnight is fine.)

Divide the dough in half. Flour your working surface or a large piece of parchment paper, then roll out the dough to a thickness of about 1/4" with a rolling pin.

Use a heart-shaped cookie cutter (or another shape of your choosing) to cut out the cookies, and carefully place each on baking sheet, leaving enough space for the cookies to expand as they rise. You may find it helps to use a thin spatula to move the cookies so that their shape is maintained.

Bake the cookies for 8-10 minutes at 350 degrees F (175 C).

Remove from the oven and let the cookies cool on the pan for a few minutes before moving to them to a cooling rack.

If you wish to decorate the cookies, wait until they are completely cool.