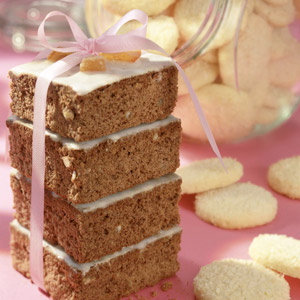 These simplified German gingerbread squares are brushed with honey and decorated with ground walnuts. A great German Christmas cookie based on traditional Lebkuchen, adapted for the home baker.
Ingredients
1-2/3

cups

unsalted butter

200g

1

cup

sugar

125g

4

tablespoons

honey

4

large eggs

4-1/2

cups

flour

500g

2-1/2

tablespoons

cocoa powder

1

teaspoon

cinnamon

1-1/2

teaspoons

gingerbread spice

Lebkuchengewürz

2

oz

candied lemon peel

50g

2

oz

candied orange peel

50g

1

cup

milk

250 ml

1

packet

Dr. Oetker baking powder

3

tablespoons

rapeseed honey

4

tablespoons

grated hazelnuts

unsalted butter for cookie sheet
Instructions
Preheat oven to 350 degrees F.

Beat the butter until fluffy. Add 4 tablespoons of honey and sugar and stir until smooth. Add eggs and combine well.

Blend the flour with the cocoa powder, cinnamon, gingerbread spice and baking powder and combine with butter-egg mixture. Add the candied orange and lemon peel and combine thoroughly. Add the milk and mix until smooth.

Evenly spread out the dough on the buttered cookie sheet.

Bake at 350 degrees for approximately 30 minutes.

Brush the warm cake with rapeseed honey and sprinkle with grated hazelnuts. Let cool and cut into squares or strips.