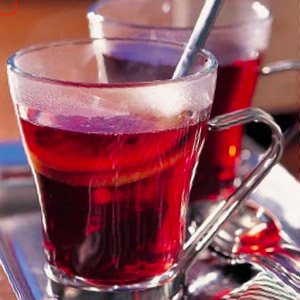 At Christmas many German town centers have street markets with stalls selling cookies, arts and crafts, wooden toys and other festive items. Almost every street corner seems to boast Bratwurst and Glühwein stalls. It's amazing how revived one can feel after a small glass of warm, spicy red wine. Below is a basic recipe, but in Germany, stalls will offer you additional flavorings such as elderberry cordial or a shot of dark rum. Heat your Glühwein in a large saucepan on the stove or in a large jug in the microwave, but don't let it boil or the alcohol will evaporate. If you want a less alcoholic drink, then mix in apple juice or water. But don't drink more as a result!
Ingredients
1

bottle

full-bodied red wine

1

small lemon

16

cloves

1

cinnamon stick

4-6

tablespoons

sugar
Instructions
Pour the wine into a large saucepan. Cut the lemon in quarters. Stick the cloves into the rind of one quarter. Slice the rest thinly.

Add the quarter and slices to the pan with the cinnamon and sugar.

Heat slowly until hot, but do not allow to boil. Serve in heatproof glasses or small cups. If you are worried about the glass breaking, stand a metal teaspoon in the glass before adding the hot liquid.