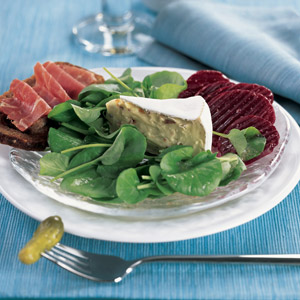 This light water cress salad would be perfect with a thin sandwich of hearty German bread and Black Forest schinken, soft cheese imported from Germany, walnuts and pickled beets (which bring only 8 calories to the recipe per serving).
Servings
2
as a side dish
Instructions
Place watercress in a medium bowl. Slice beet slices into smaller pieces and place in another medium bowl. Whisk together walnut oil, white vinegar, and salt and pepper to taste. Pour half of dressing over watercress and toss. Pour other half over beets and toss.

To serve salad, divide watercress between 2 plates. Divide beets between 2 plates, placing them to the side of the watercress. Finish with a slice of cheese on each plate, and more salt and pepper to taste.
Notes
You can substitute watercress with Boston lettuce and arugula. Use Cambozola (a Bavarian invention of mixing gorgonzola and camembert) or Bavarian Brie, which are imported German soft-ripened cheeses.