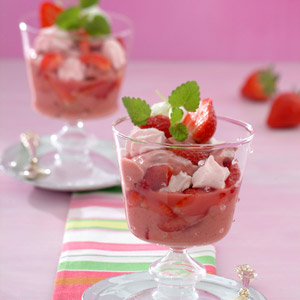 Classic strawberry-rhubarb flavors in a German-style trifle, with layers of meringue, rhubarb cream, and fresh strawberries. As pretty as it is delicious, this trifle perfectly balances sweet and tart flavors.
Ingredients
1

lb

rhubarb

5/8

cup

sugar

125g

1

cup

heavy cream

250 ml

1

lb

strawberries

2-1/2

oz

meringues

75g, small and large ones work equally well

lemon balm leaves for garnish
Instructions
Clean, thinly peel and chop the rhubarb stalks. In a saucepan bring the rhubarb and 1/3 cup of sugar to a boil while stirring constantly and cook until very soft, about 7-10 minutes (continue to stir throughout the process). Let the mixture cool down completely.

Whip the cream until firm and gently fold in the cold rhubarb puree.

Clean the strawberries, reserving some for garnishing, and slice them. Mix the strawberries with the remaining sugar.

When using large meringues, break them up into smaller pieces. In 4-6 serving glasses (or a large trifle bowl) layer the meringues, the strawberries and the rhubarb cream. Garnish the trifle with the remaining strawberries and the lemon balm and serve promptly.