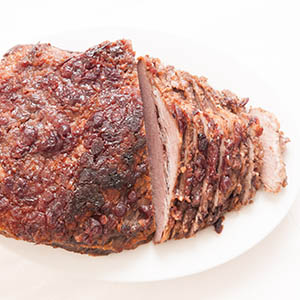 Süss-Saures Rinder Bisket
Brisket is an American beef cut of beef, namely the and heart of the chest meat (brisket). This is a typical recipe prepared for Passover, but also for Rosh Hashanah (the Jewish New Year). We can tell you already at this point: If you follow the recipe, the meat will become heavenly tender!
Ingredients
4-1/2

lbs

beef brisket

2 kg

1

cup

water

240 ml

1

cup

ketchup

240 ml

1/2

cup

vinegar

120 ml

2

onions

sliced

1

clove

garlic

finely chopped

6

oz

brown sugar

170 g

1

tablespoon

salt
Instructions
The prep time is 15 minutes, cooking time about 3 hours, and cooling down the meat in the refrigerator over night. In other words: Prepare the dish a day before you serve it. It's well worth it.

Brown the meat in a large skillet over medium-high heat from all sides. Add water, ketchup , vinegar , onions , garlic, brown sugar and salt and bring to a boil. Then cover the pan and reduce the heat to medium to low heat. Simmer for about 2-1/2 to 3-1/2 hours, turning the meat from time to time.

Take the brisket from the pan and let it rest for a few minutes . Cut it now against the fibers into slices, stack layers of the slices in a large roasting pan and pour the sauce over all slices. Cover pan and cool overnight in the refrigerator. An hour before serving, scoop fat from the meat, heat, and serve!