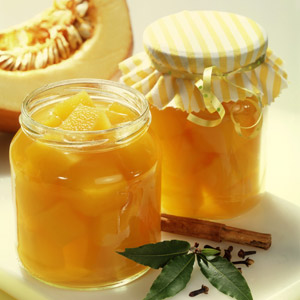 Süßsauer eingelegter Kürbis
Before the fairly recent renaissance of pumpkin recipes, this classic pickled pumpkin was one of the few well-known recipes and is still a very popular preserve.
Ingredients
2

lbs

firm pumpkin meat

1

cup

wine vinegar

1

cup

water

1-2/3

lbs

preserving sugar

750 g, or add pectin to regular sugar

1

cinnamon stick

1

bay leaf

6-8

whole cloves

1/2

tsp

ground ginger

grated zest of 1 lemon

preferably organic
Instructions
Cut the pumpkin into large cubes and place it in a large pot. In a smaller pot, bring the water and vinegar to a boil, pour the boiling mixture over the pumpkin pieces, cover and let sit for at least 12 hours.

Remove the pumpkin cubes, bring the vinegar mixture to a boil, add the sugar and all the spices and boil the pumpkin until it becomes slightly translucent.

Remove pumpkin again and fill it into large preserving glass jars. Remove the spices from the vinegar-sugar concoction, reduce the liquid through simmering and pour the hot mixture over the pumpkin chunks until they are completely covered. Immediately close the glass jars tightly.