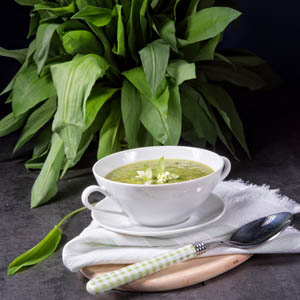 Spring soup made with fresh herbs from the meadow, garden (or market) is a special treat of early spring. It is also associated with the Easter holiday, traditionally eaten on Gruendonnerstag (Maundy Thursday).
Ingredients
1

tablespoon

butter

1

small onion

finely chopped

1

tablespoon

flour

2

cups

vegetable broth

500 ml

1

cup

cream

250 ml, or two small potatoes

finely cut fresh herbs

such as Bärlauch (ramps), spring onions, nettles, salad burnet, tarragon, watercress, chives, sorrel or parsley.

salt and pepper

croutons or cubed zwieback

edible flowers such as dandelions or violets to garnish
Instructions
If harvesting herbs from your garden, pick them early in the morning.

If using potatoes instead of cream, boil them till fork tender.

Wash herbs thoroughly, drain, and chop coarsely. You should have about 2 handfuls of chopped herbs per person.

Melt the butter in a pan, and sauté the onions till translucent. Add flour and stir; cook briefly. Pour in broth or stock, stir and bring to a boil. Simmer for 3 minutes.

Add cream or cooked potatoes plus the chopped herbs. Briefly bring to a boil, and season with salt and pepper.

Puree with a hand blender, and garnish with flowers, croutons and/or chives before serving.
Recipe adapted from almhuettenurlaub.de