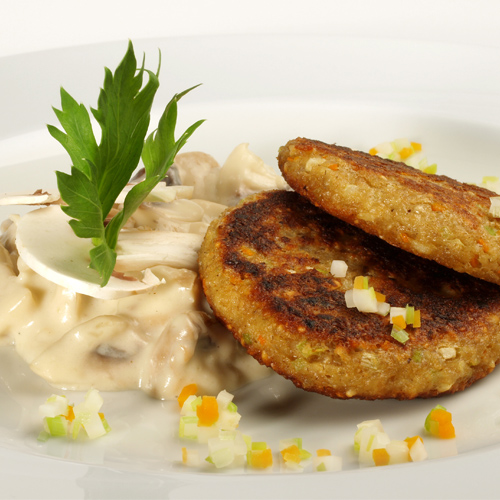 Vegetable burger patties made with green spelt flour, chopped onions, carrots and celery, breadcrumbs, and cheese. Served with mushrooms and a white sauce
Region
Franconia, Bavaria,
Ingredients
100

g

carrots

50

g

celery

1

large

onion

1

tbsp

minced garlic

150

g

green spelt flour

1

tbsp

oregano

400

ml

water

100

g

hard cheese

50

g

German breadcrumbs

1

tbsp

butter

1

tsp

nutmeg

1

tbsp

olive oil

for frying
Instructions
Peel vegetables, wash and chop into coarse cubes

Put chopped veggies into a blender and chop briefly into very small pieces

Heat butter in pan and braise vegetables lightly for about 5 monutes

Add green spelt and oregano and braise for 4 more minutes

Add water so that it just covers the vegetable, green spelt four mix. Add salt and pepper to taste

Cook lightly for 5 minutes, remove from heat, cover pan with lid and let steam for about 20 minutes.

Grate cheese in the meantime

Pour the green spelt/vegetable mix into large bowl. Mix with cheese and breading. (For a non-vegan recipe, you can add 2 eggs at this point). Season with salt, pepper and nutmeg to taste. The mass should have a firm consistency. If it is still too soft, add bread crumbs.

Form about 10 small Frikadellen (burger patties) and fry in olive oil until brown on both sides.

Serve with mushrooms (cut lengthwise) and white sauce, hollandaise sauce or yogurt dressing. Add vegetables of your choice, buns, or salad.
Adapted from chefkoch.de