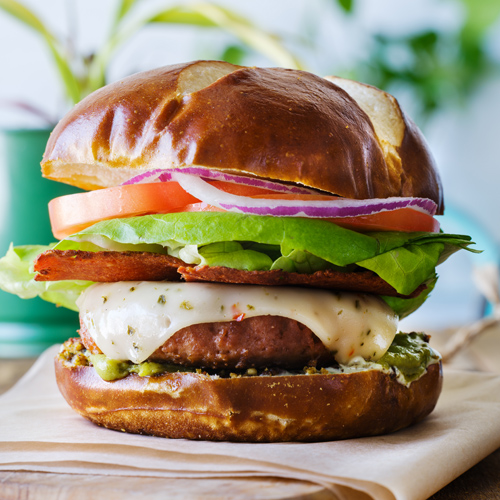 Vegan and vegetarian eating has been growing in recent years, in Germany as in the US. Despite the stereotypical view of a meat-and-potato Germany, many Germans embrace a more plant-based diet, and a lighter take on German cooking that's lighter on the planet, too. No matter what cuisine you enjoy, these recipes are for vegetarians and meat-eaters alike!

Looking to buy German vegan and dietary foods right now? Visit our sister site TheTasteOfGermany for German Vegan and Dietary Foods!
Fresh and live ingredients bring the power of fermented cabbage, onions, and potatoes to a updated, vegan take on German flavors.
Roasted potatoes that are a delectable side to any meal.
Asparagus that are fried in German beer batter, topped with a tasty herb sauce.
Ice these rich little cupcakes with pink frosting and leave plain, or garnish with sprinkles or a fresh cherry half.
Potatoes and lentils are a popular combination in German cuisine and this salad brings them together in a fresh and delicious way.
Potato-Chickpea patties make a nice hearty base with delectable mushrooms on top.
A creamy dish with simple vegetables, lightly baked-over with cheese. Add any vegetables to make it your own!
By using nuts in place of beef, this pasta sauce keeps its heartiness with an added crunch.
The Portabella Schnitzel is a vegetarian alternative to the famous Wiener Schnitzel (breaded veal cutlet).
Serve for any meal of the day: breakfast, lunch, or dinner!
A vegan twist on a food we all love.
Kohlrabi, also known as German turnip or turnip cabbage, is a favorite in German cuisine. This vegetable is very similar to brussel sprouts and broccoli, and its leaves compare to kale or collard greens.
A vibrant vegetarian salad with healthy and nutritious ingredients, including red cabbage, oranges, and sunflower oil, accompanied by a herb-cheese filled roulade.
A novel presentation of German flavors of red cabbage, spaeztle, and Cambozola blue veined cheese, this nutritious and elegant dish could be a vegetarian entree for a holiday meal.
A delightfully light and refreshing summer noodle salad, garnished with vegetables.
Classic spaetzle, made with spinach, make a great vegetarian side dish.
These Frikadellen taste great on a bun, or simply plain with any sauce of your choosing.