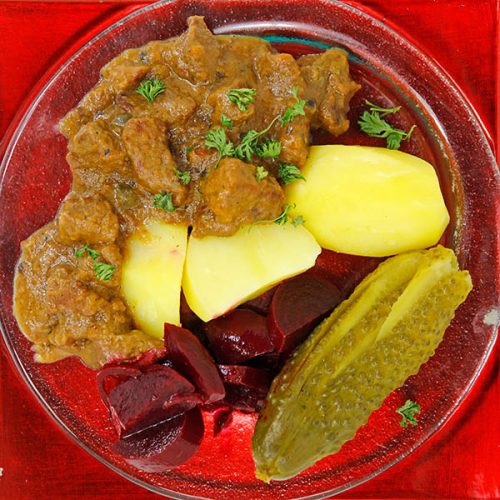 Ingredients
500

G.

beef

shoulder or leg

500

kg.

pork

shoulder or leg

4

onions

100

G.

clarified butter

10

black peppercorns

2

bay leaves

3

cloves

1

liter

meatsoup

G.

breadcrumbs

grind

salt

grind

white pepper

freshly ground

2

el

lemon juice

freshly squeezed
Instructions
Peel, halve and coarsely dice the onions.

Rinse the meat in cold water, pat dry thoroughly and cut into 3-4 cm cubes.

Heat the clarified butter in a roasting pan, add half of the meat cubes and dust with a little flour.

Brown vigorously all over for about 5-6 minutes, remove and fry the remaining meat cubes in the same way. It's important to sear the meat and only turn it when one side is browned.

Put the onion cubes in the frying fat and brown for about 2-3 minutes. Then put the meat back in the pot, pour in the meat stock, add the peppercorns, the bay leaves, the cloves and some salt.

Bring to a boil for 1 minute, then reduce the heat to medium-low and simmer, covered, until tender, about 1.5-2 hours. Stir a few times during this time.

Finally, sprinkle and mix in the breadcrumbs, and boil the pepperpotthast for another 1 minute. (Alternatively, 100-150g of crumbled black bread or pumpernickel can be used as a binder.) Then season with salt, pepper and lemon juice and serve.

Serve with boiled potatoes or pasta, pickled beetroot and gherkins.
Adapted from GuteKueche.de
Notes
It is best to put the laurel leaves, peppercorns and cloves into a tea filter or a tea infuser and place in the pot, so that they are easy to remove after cooking. Breadcrumbs can also be used as a binder.