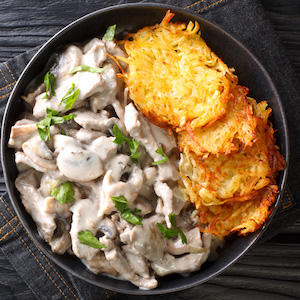 Zürcher Geschnetzeltes is a Swiss dish from Zürich made with sliced veal strips, white wine, cream, and mushrooms, served with Roesti potatoes.
Ingredients
Instructions
Fry meat strips in butter at high heat for about 3 minutes, until golden brown. Dust with a little flour. Remove meat from pan just before meat juices appear.

Reduce heat and roast onions or shallots in remaining butter.

Add mushrooms, cook for 2 minutes, dust with flour and mix well.

Add wine and let cook until liquid is reduced by half.

Combine broth, whipping cream, and corn starch, add to pan, and cook for another 3 minutes.

Add meat, parsley, salt, and pepper. Stir, and cook for 2 min.

Serve warm with Roesti potatoes.