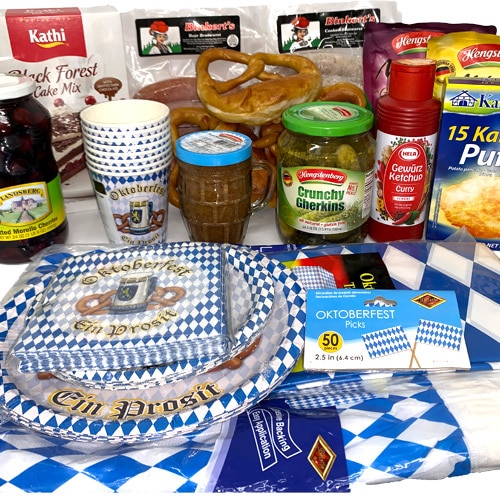 Product Description
Celebrate Oktoberfest at home with family and friends. Our Oktoberfest box for eight people contains all you need for and authentic culinary experience: sausages, pretzels, sauerkraut, pickles, mustard, curry ketchup, some authentic dessert to finish the meal and, of course, the appropriate decorations.
FREE SHIPPING

(Please note: in order to qualify for free shipping, this collection must be purchased on its own, without any further products in the order).
This assortment includes perishable items which we will wrap in ice and cold-shield insulation. The sausages and pretzels may arrive thawed, but they are safe to eat. Simply put the perishable products back into the freezer or refrigerator and consume latest 2-3 days after receipt. 
The box contains:
2 packs of 1 lbs (4) Bratwurst or similar sausage
10 Bavarian soft pretzels and/or pretzel buns, handmade, frozen
1 box of German potato pancakes, makes 23 pieces
1 Bavarian Sweet or Medium Hot Mustard 8 oz
1 German Curry Ketchup mild or hot (11 oz)
1 Baden Wuerttemberg Sauerkraut in a pouch
1 Baden Wuerttemberg Red Cabbage in pouch
1 jar Baden Wuerttemberg Crunchy Gherkins
1 box authentic German Cake Mix kit (makes a delicious cake for 8 people)
1 pack of16 Oktoberfest dinner napkins
1 pack of 8 Oktoberfest 9″plates
1 pack of 8 Oktoberfest 7″ plates
1 pack of 8 Oktoberfest cups
1 pack of 50 Bavarian or German flag tooth picks (please let us know your preference during checkout)
1 Bavarian or German flag colored table cloth 54″ x 108″ (please let us know your preference during checkout)
1 Bavarian table skirting 29 x 14 in.
5 sets of Bavarian or German flag color  balloons
Oktoberfest Pretzel Stickers, Peel 'n Place, various sizes, 8 pc
Please read our "Shipping Perishable Products" section
Specifications
Weight:

320 oz

Width:

12 in

Depth:

12 in

Height:

12 in