Germanfoods.org is about "everything you always wanted to know" about the country's cuisine and culinary heritage. Here we link hundreds of authentic contemporary and historic recipes to essential ingredients and side dishes. You can find addresses of German shops, restaurants, beer garden, Oktoberfest and more all across the USA and Canada. Get background stories, cultural facts and regional insights from all German states and neighboring regions. Learn about well-known manufacturers and their brands.
Our mission is to increase the appreciation and awareness of German and Central European cuisine and connect "German food fans" all around the world. We also offer opportunities for small, family-owned producers based in Germany and Central Europe to present their newest, most innovative and highest quality food and beverage products to interested consumers in North America.

You can shop among 1500+ imported foods and beverages for everyday and seasonal occasions on this website or on our sister site.
Browse these sections to find what you want to know:
Recipe Collections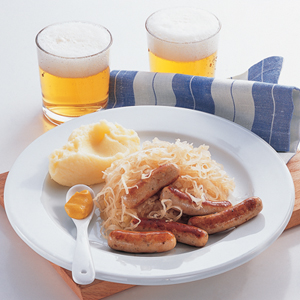 : Discover close to a thousand authentic recipes reflecting the large diversity of German and Central European cuisine – from "haute cuisine" chef's recipes to tried-and-true regional and local favorites.
Products and Brands: Many of the recipes require a special ingredient or side dish that makes the meal ever more authentic. Browse among 1,100+ products on this site or the related online shop thetasteofgermany.com and find the most fitting condiment, spice, pickled vegetable, sausage or spaetzle that fit the recipe you want to make. And discover hundreds of new, artisan or innovative products from small, family-owned producers that may be worth a try. Our "Product Gallery" features a brief description of unique and well-known brands available in North America.
Get the Facts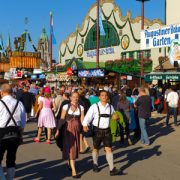 : Are you hosting a German dinner or original Oktoberfest party? Want to prepare for your upcoming trip to Germany? Interested in those quirky and quaint Germanic traditions around Christmas, Easter, or Mayfest? Every meal has a story and our writers have penned hundreds of background stories that put recipes, culture, history and products into one context.
Find a Restaurant or Store: Based on our own research and thanks to the comments submitted by visitors to our website, we have collected hundreds of addresses of German food stores, restaurants, beer gardens, Oktoberfest and Christmas markets in all of the US states and Canadian provinces. This list is ever changing and certainly not exhaustive. We're doing our best to keep the list up to date at least once a year, but need the volunteer help of you, the reader, to help us out with new openings and closures. If you own or operate a specialty retail store or restaurant with a large assortment of German and Central European foods or beverages, please contact us and we will publish your facility or event on our website free of charge.
It is not a secret: what and how we eat greatly influences our health, happiness and well-being. Learning about the art and science of cooking, culinary heritage, sustainable agriculture and forestry, food production, nutrition and mindful eating becomes ever more important. We strive to keep you up to date with honest, independent, and unbiased information.
This website started in 2003 and is maintained and edited by the editorial team of German Foods North America, LLC, an independent blogger, importer and retailer based in the Greater Washington, DC. Metro area.
Thank you your visit. Please send us your feedback and comments.
Guten Appetit!
Arnim von Friedeburg
Owner and Editor-in-Chief
615 Lofstrand Lane
Rockville, MD 20850
[email protected]
Tel: 1-800-881-6419
Contributing Writers:
Arnim von Friedeburg
Claire Marino
Devin Slaugenhaupt
Sally Hudson
Anna Drescher
Christine Wezel
Amanda Bond-Thorley
Florina Beba