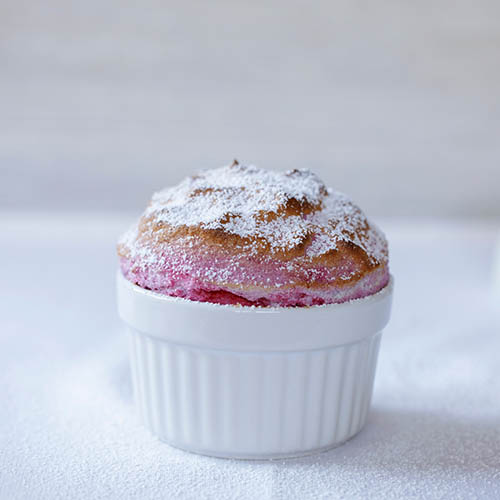 By themselves, these rich, flavorful soufflés are virtually fat-free. The German chocolate sauce is rich but not too sweet, as most German-produced chocolate has a higher percentage of cocoa and less sugar than most American chocolate.
Ingredients
Souffles
butter and sugar for preparing ramekins

1-1/2

cups

German pitted preserved Morello cherries Sauerkirschen

3

tablespoons

lemon juice

1/2

teaspoon

German almond extract

5

large egg whites

room temperature

1/4

cup

sugar
Warm Chocolate Sauce
5

ounces

German milk chocolate

coarsely chopped

3

tablespoons

butter

1/4

cup

heavy cream
Instructions
Preheat oven to 350 degrees F. Butter and sugar 6 8-ounce ramekins, place on a baking sheet, and set aside.

Combine cherries, lemon juice and almond extract in a blender and puree until very smooth and almost fluffy. Transfer to a medium bowl and set aside.

In a large, clean, metal bowl, beat egg whites on medium speed until very soft peaks form. Continue to beat while slowly adding sugar in a steady stream. Beat until peaks are stiff but not dry. Use a rubber spatula to fold one-third of egg whites into cherry puree. Gently fold puree into remaining egg whites. Divide this mixture among ramekins and smooth the tops. Bake just until well-risen and beginning to brown, 12 to 14 minutes.

For the sauce, heat 2 or 3 inches of water in a small saucepan to a low simmer. Combine coarsely chopped chocolate with butter in a heatproof bowl that fits over the saucepan — bowl should not touch water. Stir until chocolate melts. Remove from heat and stir well until smooth; serve immediately. (Sauce may be reheated by setting it over simmering water.)

To serve, bring soufflés to the table. Pass around warm chocolate sauce, so that each person may split his soufflé in the middle and spoon in sauce as desired.