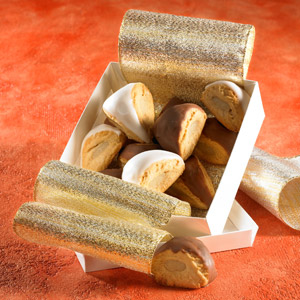 These homemade holiday treats are sure to become one of your favorite Christmas cookies. Beautifully wrapped, they also make a great gift.
Ingredients
1/2

cup

sugar

7

oz

honey

200 g

2

eggs

4-1/2

cups

flour

plus more for the work surface, 500 g

3

tsp

baking powder

1

teaspoon

cinnamon

1

pinch

allspice

7

oz

marzipan for baking

almond paste, 200 g

7

oz

chocolate

200 g

1

tbsp

unsalted butter

1-1/3

cups

confectioner's sugar

200 g

2

egg whites

baking parchment paper
Instructions
In an electric mixer beat the sugar, honey and eggs until frothy.

Sift the flour, baking powder, cinnamon and allspice into the mixture and work all the ingredients until they come together in a smooth dough. Let it rest in the fridge for about 30-60 minutes.

Preheat the oven to 350 degrees F (180 degrees C).

Knead the marzipan, warming it with your hands until it can be shaped easily. Form logs about 4 inch (10 cm) in length and about as thick as a finger.

Roll out the dough on the lightly floured work surface and cut it into 3x4 inch (8x10 cm) rectangles.

Wrap the dough around the marzipan logs, then cut the logs into small triangular pieces. Place the pieces onto a cookie sheet lined with baking parchment paper and bake for about 15-20 minutes. Let them cool down on a cookie rack.

Melt the chocolate and butter in a double boiler. Sift the confectioner's sugar into a bowl and combine it with the egg whites. Coat half the cookies with the chocolate glaze, the other half with the sugar glaze.