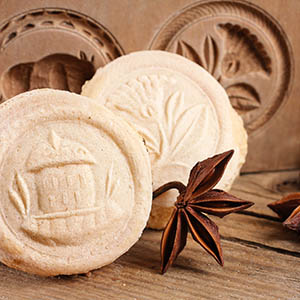 A classic German Christmas cookie with an embossed design.A classic anise flavored German Christmas cookie with an embossed design. These cookies require special wooden molds.
Ingredients
4

large eggs

2-1/4

cups

confectioner's or super-fine sugar

450g

4

cups

flour

450g

1

teaspoon

baking powder

1/2

cup

anise seed
Instructions
Beat eggs until thick. Gradually add sugar and beat well until combined. Fold under the sifted flour and baking powder. Roll out dough to about 1/2 inch thick.

Flour the Springerle mold each time it is used and press firmly into dough. Remove mold and cut the cookies along the outside lines of the imprint.

Place cookies on a board or cookie sheet that is sprinkled with anise seeds. Let dry in a cool room overnight. Butter a cookie sheet and place Springerle on it.

Bake at 250° F until light golden on the bottom and white on top (about 15 minutes).