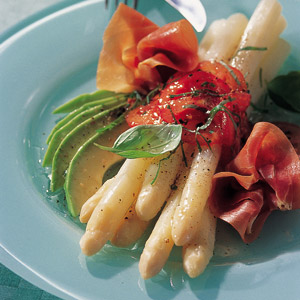 Weisser Spargel mit Schwarzwälder Schinken
A side dish or salad of blanched white asparagus and fine German Black Forest ham, with avocado, tomato, basil and chives and an oil and vinegar dressing.
Ingredients
For the asparagus:
1

lb

fresh white asparagus

1

large ripe avocado

1/2

cup

oil and vinegar dressing

4

ripe round or plum tomatoes

skinned

4

large fresh Basil leaves

shredded

8

slices

wafer-thin German imported Black Forest ham

1

tbsp

chopped fresh chives

sea salt and freshly ground pepper
For the Oil and Vinegar Salad Dressing:
4

oz

rapeseed or vegetable oil

4

oz

olive oil

4

oz

German white wine or German apple vinegar or half of each

1/2

tsp

sea salt

1

tsp

German mustard

1

tsp

German honey

optional

1/4

tsp

freshly ground pepper
Instructions
For the asparagus:
Trim the bottoms of the asparagus stalks and peel with a vegetable peeler. Bring a large pan of salted water to a boil and drop in the asparagus. Simmer for 3 minutes and have a large bowl of iced water ready.

Using a large slotted spoon, lift out the asparagus spears carefully. Place immediately into the iced water and leave for 5 minutes, then carefully drain.

Slice the avocado and mix gently with a third of the dressing. Season well. Slice the tomatoes thinly and season. Allow to stand for 10 minutes then drizzle with another third of the dressing and mix in the basil.

Arrange 2 slices of ham on each of four large plates. Divide the asparagus, tomato and avocado between the plates. Drizzle the last of the dressing over the asparagus and sprinkle over the chives. Season with coarsely ground pepper and serve.
For the Oil and Vinegar Salad Dressing:
This dressing is a good all-purpose recipe for green leaf, potato, pasta and mixed vegetable salads. Makes 1 1/4 cups.

Whisk together all ingredients. Store refrigerated in sealed jar. Whisk again just before serving.