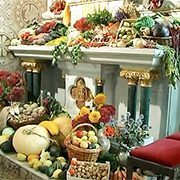 Harvest celebrations and days of thanksgiving in Europe date back to pre-Christian pagan times. Long before the first Europeans arrived in North America, farmers across Europe held celebrations at harvest time. These celebrations gave thanks for their good fortune and the abundant harvest of the year. To give thanks, workers would fill a curved goat's horn with fruit and grain. This symbol was called a Cornucopia, or "horn of plenty". When German settlers came to North America they brought this tradition with them. The Cornucopia is still to this day a symbol of Thanksgiving in North America!
Erntedank Today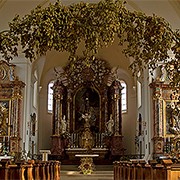 Today, the German tradition of Erntedank is mainly a religious holiday. While there are some slight differences in the exact date of Erntedank, celebrations, church services and parades are usually held the first Sunday of November. Erntedank still pays tribute to the work accomplished in Germany's fields and gardens. However, it is overwhelmingly a day for fun, good food and thanksgiving for good fortunes of the past year.
A Typical German Thanksgiving (Erntedankfest)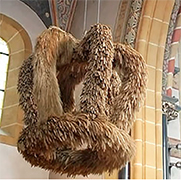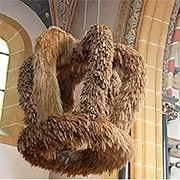 The typical German thanksgiving celebration (Erntedankfest) is normally a rural event. There are often country fairs and town gatherings filled with food and neighbors. However, in larger cities and less rural areas, Erntedankfest is sponsored by Protestant and Catholic churches. A typical German church observance of Erntedankfest begins with a sermon and a choir singing songs of thanks. Following this comes the thanksgiving procession, complete with the presenting of the traditional "harvest crown" (Erntekrone) to the harvest queen (Erntekönigin). Later in the day there is more music, dancing, and food. In some places, there is an additional evening church service. This is often followed by a lantern and torch parade (Laternenumzug) for the children. Sometimes there are even fireworks at night!
A Common Factor
What do the North American tradition of Thanksgiving and the German celebration of Erntedank have in common? They share the spirit of gratitude for all the good that has happened! These holidays are quintessential reminders of the importance of the agriculture that provides the foods and beverages that nourish us everyday.
A Harvest Friendship
The "First Thanksgiving" took place in 1621 between the Puritan pilgrims at Plymouth and the Wampanoag tribe. This celebration was to celebrate the Pilgrims' first successful harvest and to thank the neighboring Wampanoag tribe. Led by Massasoit, the chieftain of the tribe, the Wampanoag gave large amounts of food to the pilgrims. Additionally, Squanto, a Patuxet Native American who lived with the Wampanoag instructed the pilgrims in agriculture. The Native American intervention was a large and important key to the pilgrims' survival. The celebration itself was quite similar to European harvest festivals of the time. They celebrated with feasting and games, as was the custom in England, as well as prayer, which was customary for Puritans. The celebration served to boost the morale of the fifty surviving colonists and also to impress and show gratitude for their allies.
Oblaten – The ultimate wafers for Communion and Gingerbreads
Classic Sauerkraut for Erntedank Meals
German-Style Thanksgiving Recipes