These gingerbread hearts are like the ones made for Oktoberfest — optimized for decoration, which means they are large, strong, and stiff. They're as much keepsake as cookie.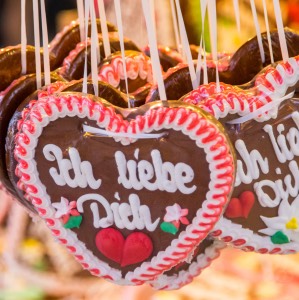 Instructions
In a saucepan, heat the butter, honey, and brown sugar until the sugar completely dissolves. Remove from the heat and set to cool down.

Mix together the flour, baking powder, cocoa, and gingerbread spice. Combine with the honey mixture and the egg. Knead into a smooth dough. Cover and refridgerate for two hours.

Preheat the oven to 350° F (180° C). Line a baking sheet with parchment.

Roll out the dough to about 1/4" thickness. Using a large heart-shaped cookie cutter or a homemade template, cut hearts out of the dough and place on baking sheet, leaving room for them to rise.

Bake the gingerbread hearts for 15-20 minutes. Remove from oven and place on cooling rack. Let cool completely before decorating.