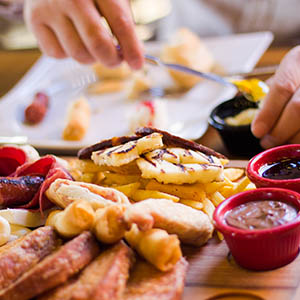 Every country has its beloved local street food. In the US and elsewhere, the prominence and quality of street food has risen as food trucks and pop-up restaurants have fashionable. In Germany so-called street food is available year-round at snack food stands (Imbisshallen), food trucks, and at all the customary festivals such as Christmas Markets and Oktoberfest. Street food culture has really risen in prominence in Germany, with several annual street food festivals throughout the year in Cologne, Hamburg, Düsseldorf, Mainz and Munich and Berlin. Arguably, Berlin is the street food capital of Germany.
The most popular street foods are considered 'must-trys' when traveling in Germany. They will tempt you just by reading their description or viewing the pictures. Fear not! If you're not going to Germany this year, you can still sample German Street food by cooking it at home.
Try one of these classics – we've got recipes for them all to make from scratch, and links to help you along with 'shortcuts' from our online store. Bon appetit!